The Perfect Solution for Patios, Verandas & Decks
Practicality & style for your outdoor space
Our Folding Arm Awnings provide compact and effective protection from the elements. Our range is available in a variety of styles, from classic, to semi-cassette, to full cassette.
Made in Australia using European design and technology, the folding arm is built to last. Our Folding Arm frames come in a variety of colours, whilst our fabrics are inspired by the fashion capitals of Europe.
Our range is now supported by the ILIOS Wire Guide and Pivot Arm – based on the same high-tech components from Acmeda.
We offer three different series of Folding Arm Awnings – the BX Series, PR Series, and the TC Series.
All Folding Arm Awnings can be applied in both private residential and commercial settings.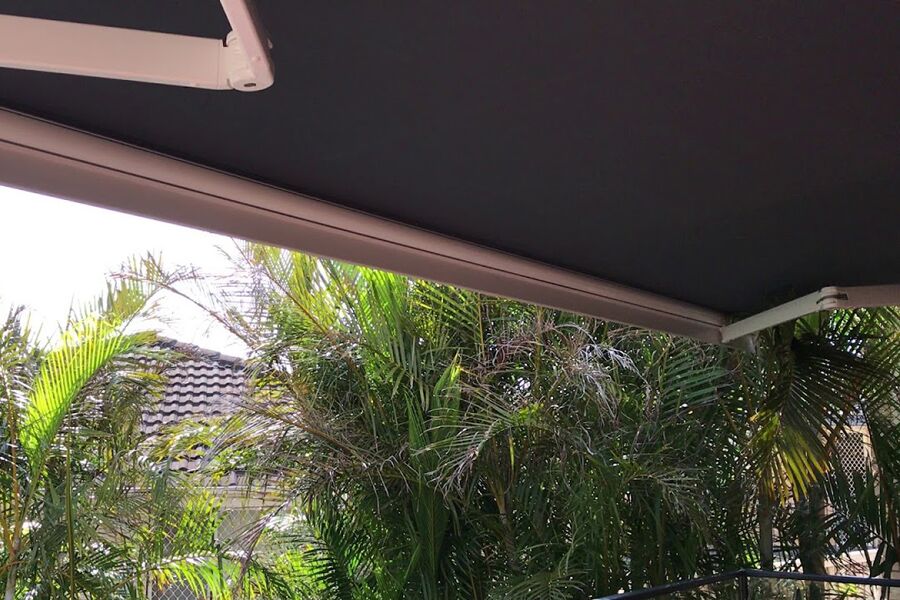 Folding Arm Awnings to enhance any facade
Our BX270 and BX60 Folding Arm Awnings are high-quality closed cassette systems. They feature arms, casings and hinges made from a durable aluminium alloy. These compact awnings blend contemporary design together with reliability and protection.
The difference between the BX260 and the BX270 models is in the extension pole and cover profile, each with their respective extension pole cover and side guard box with pulley plate.
The low profiles of the cassettes ensures that both models blend perfectly when mounted, giving a clean and sophisticated look. They feature long-lasting fabrics that protect against the elements and are easy to clean. Available in multiple sizes and customisable for different angle ranges, these awnings are perfect for a wide range of applications.
Our BX Series Folding Arm Awnings are available with both automatic and manual control options. Automation is by way of an efficient tubular motor, controlled by a remote-control unit. An optional wind-sun sensor can be added to automatically regulate the awning depending on sunlight and wind speed. For manual operation, a crank and gearbox can be used.
When retracted, the fabric and arm mechanisms of these awnings are completely enclosed within the casings. This ensures maximum durability and protects against environmental degradation.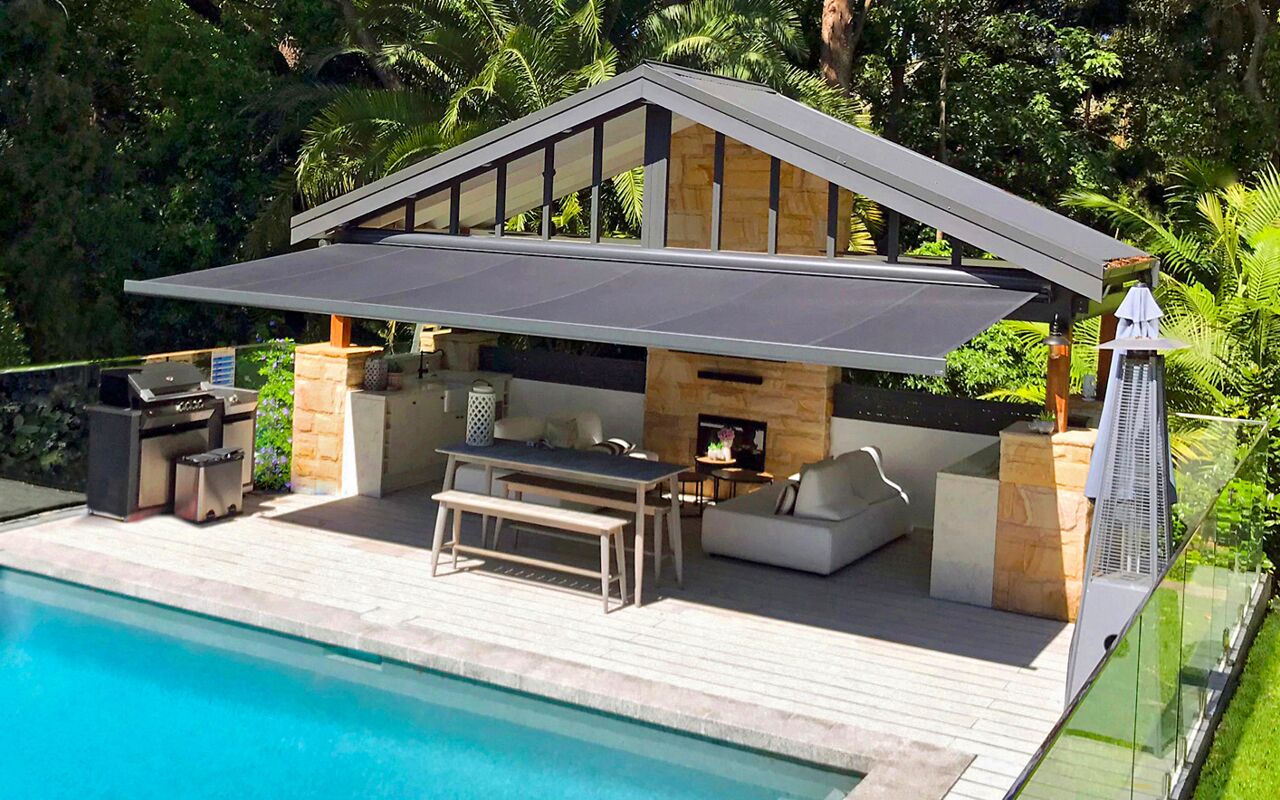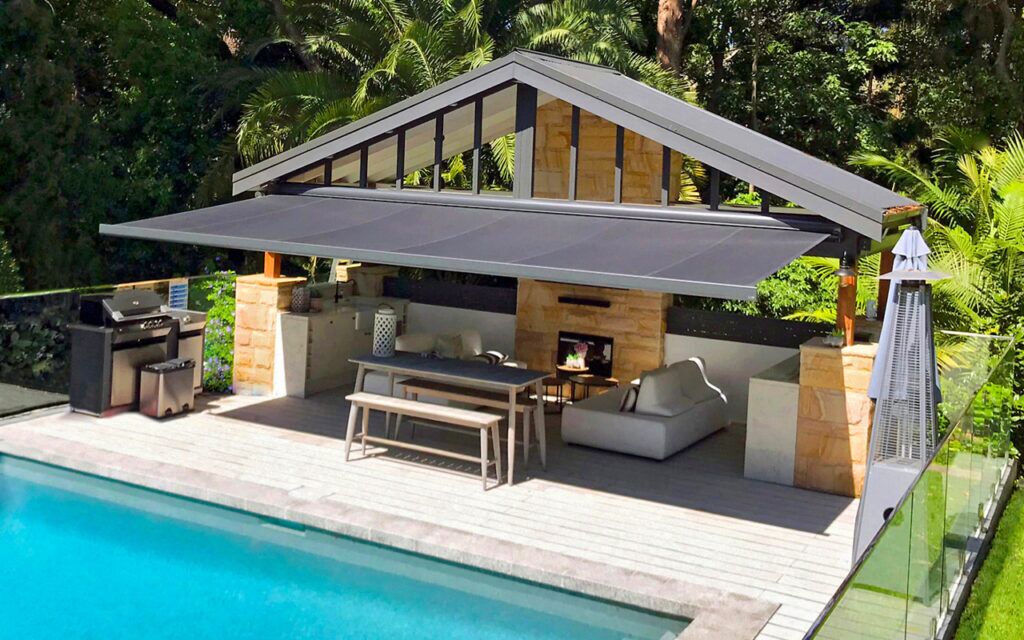 Dimensions
Maximum Width
One Section: 7m | Two Sections: 12m
Drop
Minimum: 1.5m | Maximum: 3.5m
Angle
Minimum: 10° | Maximum: 35°
PR SERIES
PR220 | PR210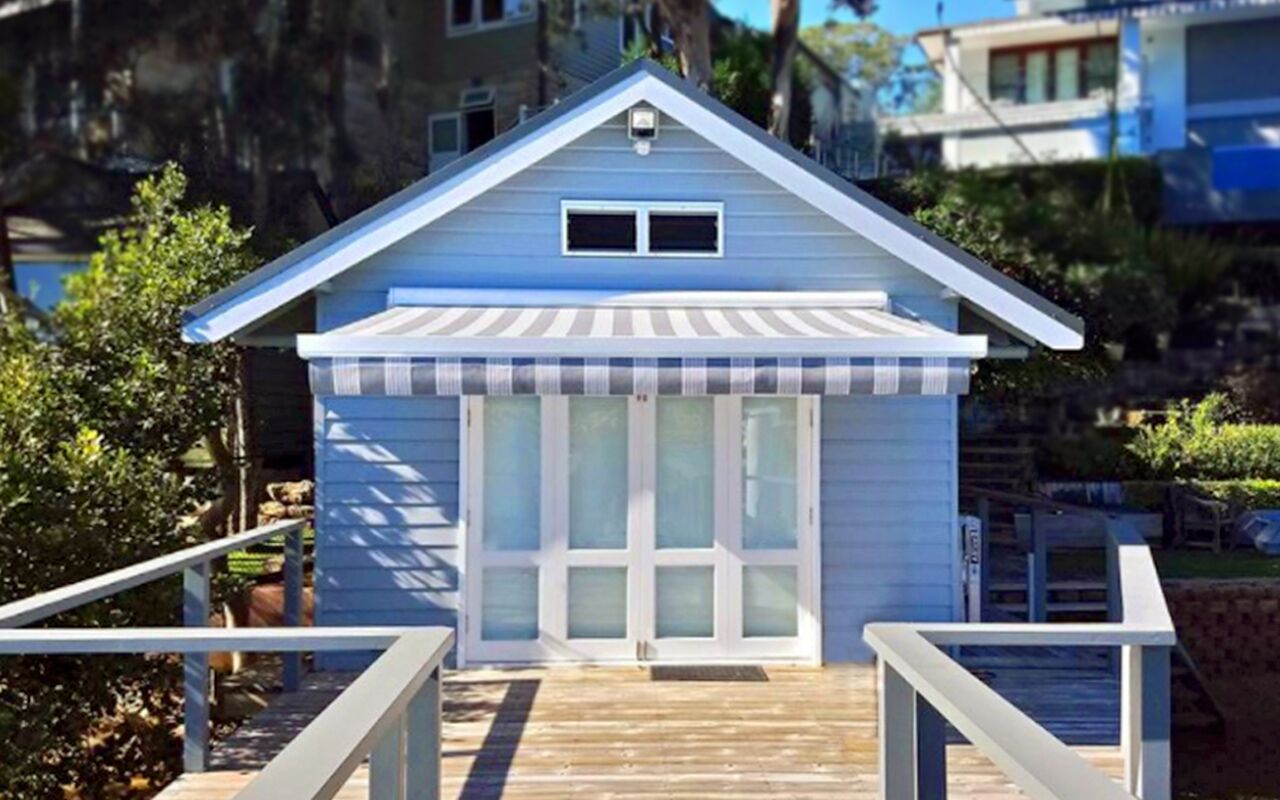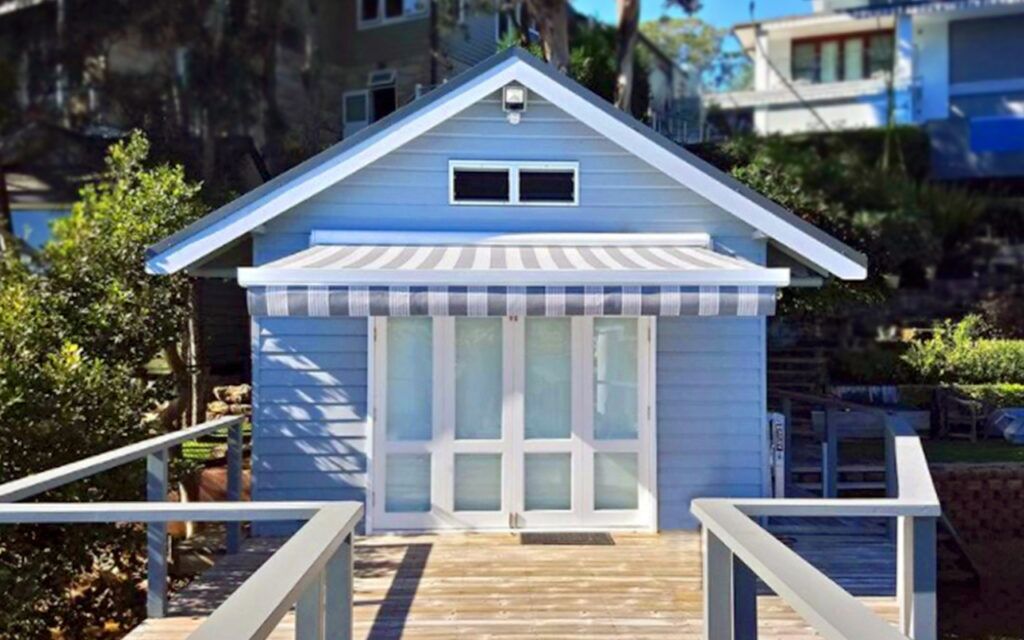 Dimensions
Maximum Width
One Section: 7m
Two Sections: 12m
Drop
Minimum: 1.5m | Maximum: 3.5m
Angle
Minimum: 10° | Maximum: 45°
Folding Arm Awnings with a classic finish
Our PR220 and PR210 Folding Arm Awnings are compact systems featuring an aluminium extruded cassette to enclose the fabric and ensure its longevity. These awnings effectively combine contemporary design, ease of use and protection in one affordable and versatile package.
Perfect for use on a porch or near a swimming pool, the PR Series Folding Arms are the ultimate in ease of use. Apart from the standard crank and gearbox manual control, they are optionally available with a remote control, powered by a superior tubular motor. A wind-sun sensor may also be added, allowing the awning to automatically extend or retract depending on wind speed or level of sunlight.
Both models feature cassettes that are compact and low profile, they blend with any building facade seamlessly. Once extended, the spring assembly creates maximum tension for the fabric so it is completely taut.
The universal Folding Arm Awning
Our TC130 Folding Arm Awning features a compact design, rapid adjustment and universal uses. You can easily adjust the angle of this awning to determine how much shade you desire.
This awning has a high-quality acrylic fabric with a special treatment that leaves it mould and dirt resistant. This keeps the fabric looking clean and bright for many years.
The TC130 is fitted with a high extension pole as a standard. With an exceptionally wide choice of colours and designs, this folding arm awning will add the finishing touch to your home.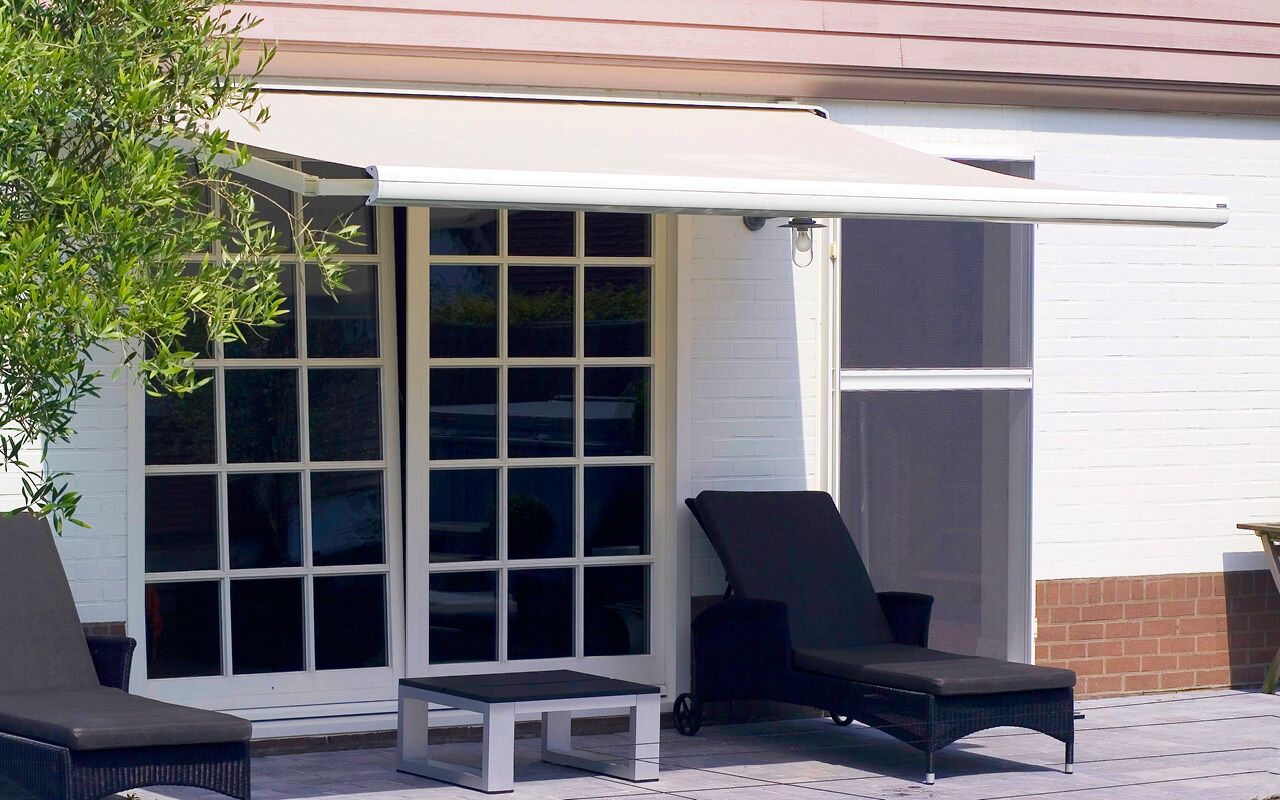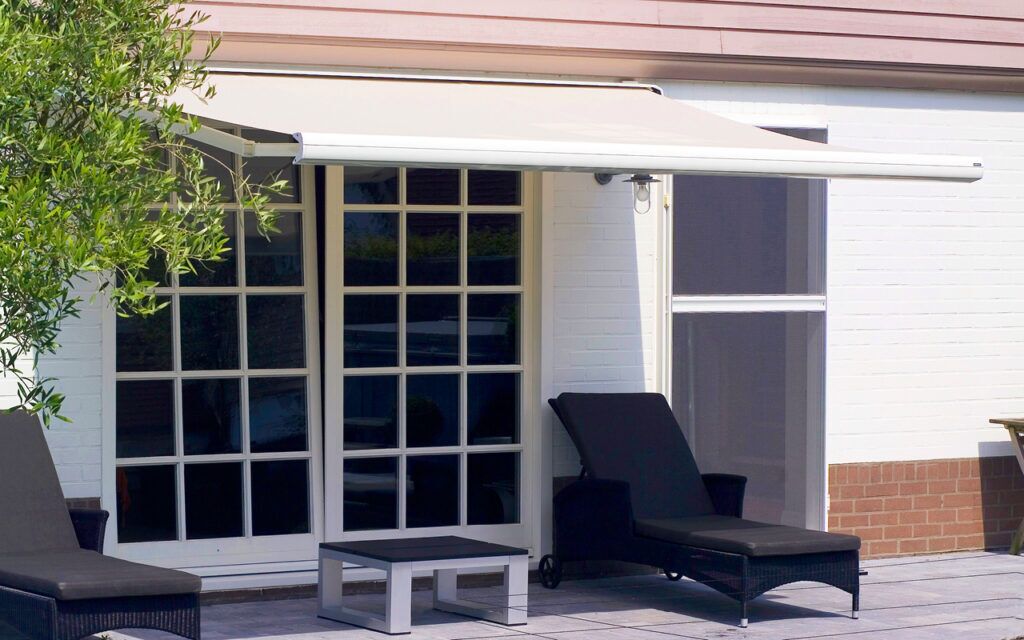 Drop
Minimum: 1.5m | Maximum: 3m
Angle
Maximum: 90°
Maximum Width
One Section: 5.5m